"Do I Need An Opt-in Box? Why Would I Need an Email List? What System Should I Use?"
An opt-in box is important for your website because you can build an email list database of your ideal clients and other interested people. If people are just landing on your website and leaving, you have no way to contact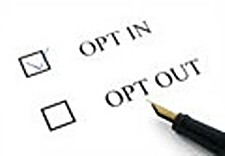 them to lure them back. If you can collect their email addresses, you can send updates and e-zines/newsletters full of valuable information and tips. It's a great way to keep in touch and let others know what is happening with your business! The more you put yourself in front of your potential clients, the greater the chance they will remember you and your services.
Opt-in boxes are created through email management programs such as 1Shopping Cart (and private labels), AWeber, iContact, Constant Contact, MailChimp and InfusionSoft, just to name a few. Which one you choose really depends on what level your business is at now and your potential needs. The systems vary in price and services.
MailChimp is free and has a lot of great features, but it is very restrictive in that you must upgrade to be able to use autoresponder messages (emails set up in a series to send automatically after someone opts in), and MailChimp does not allow you to market affiliate products and services. According to the terms of service, doing so can cause your account to be seized and you may lose your entire email database.
AWeber, iContact and Constant Contact are some that are used for general email marketing and newsletters.
InfusionSoft offers every feature you can imagine and is crazy expensive. It is a really great platform. I generally recommend upgrading to this once you are making $10,000 per month or close to it. I've seen too many coaches get talked into using this too soon when they aren't making enough money in their business to be able to support the cost. Then they end up downgrading to something more affordable. In doing this, you've lost the $1500-2000 set up fee, and if your business grows later on and you decide to go back, you'll have to pay that all over again.
If Infusionsoft is just too expensive for you at this point in your business, you may consider Ontreport (some similar features to Infusionsoft but less expensive) and 1ShoppingCart. In many cases, if you need an all-in-one system with email autoresponders, a shopping cart system and possibly an affiliate system, 1ShoppingCart will do what you need at a much more affordable price. Most of my clients use either 1ShoppingCart or Infusionsoft.
The last thing you really want to do is to start a list with one system and then have to move it because it's not serving you well. Sometimes it is necessary to do that because your business grows or changes in a way that you couldn't have anticipated earlier on. The biggest problem is that you could lose a percentage of your subscribers in the process due to mandatory double opt-ins of some of the systems. If you do choose to move your large list via single opt-in, do check with the company you are transferring to. Make sure you meet their requirements and that your account won't be flagged as suspicious.  Otherwise, you risk losing your list.  Because of the actions and abuse by some users, it sometimes causes problems for innocent users as well.
You never want to do your email marketing through your regular email account (ex. Gmail, your regular domain/hosting email, etc.). Not only is this inefficient, but it can get you into trouble with the CANSPAM CASL laws. The email marketing systems have measures in place to prevent both them and you from getting into trouble. These measures often consist of double opt-in, a spam score, displaying your company name and mailing address, privacy statement, disclaimers, and the option to automatically unsubscribe.
If you're not sure what type of system you need for your business, you should do some in-depth research into the features of each one, or consult with a knowledgeable Virtual Assistant and have them automate the process for you.
Need help? Check out my Email Marketing Services or schedule a Complimentary Discovery Session below.

If you found this article interesting and helpful, please click on the social media links and share it with your friends!